1. Greeks and Orthodox Christianity in Iowa
2. Greeks in Des Moines
3. St. George Parish
Click on a link to move through the text.
---
1. Greeks and Orthodox Christianity in Iowa

There are approximately 6000 Greek-Americans living in Iowa today, up from a U.S. Census total of 18 Greeks in Iowa in 1900. Most are descendents of the early immigrant communities of Sioux City, Mason City, Des Moines, Cedar Rapids, Waterloo, Davenport, Council Bluffs, and Dubuque.

Many of the earliest, almost exclusively male immigrants returned to Greece, but by the 1920s, most Greeks stayed and raised families, establishing a permanent Greek-American community in Iowa. They founded Greek Orthodox churches in Waterloo (St. Demetrios, 1914), Sioux City (Holy Trinity, 1917), Mason City (Holy Transfiguration, 1918), Des Moines (St. George, 1928), Cedar Rapids (St. John the Baptist, 1938), and Dubuque (St. Elias, 1956).

The Eastern Orthodox community isn't limited to people of Greek ethnicity, however. Iowa also has three Antiochian Orthodox Churches. Two of the churches, St. George in Cedar Rapids and St. Thomas in Sioux City, serve primarily Lebanese/Syrian communities. In the summer of 2001, St. Raphael of Brooklyn Antiochian Orthodox Mission in Iowa City was founded by converts to the Eastern Orthodox Church.

In the spring of 2002, a new mission church of the Orthodox Church in America (an offshoot of the Russian Orthodox Church) was founded in Pella, Iowa as the St. Nicholas Orthodox Christian Church. Pella is located approximately 50 miles southeast of Des Moines, and is known nationally for its Dutch heritage and annual Tulip Festival. St. Nicholas (Sinterklaas) is the patron saint of the Netherlands. The OCA is an autocephalous (self-headed) jurisdiction in the United States and Canada. St. Nicholas Church is under the jurisdiction of the OCA's Diocese of the Midwest.

In 2012, St. John the Wonderworker Orthodox Church, a mission parish of the Russian Orthodox Church Outside of Russia (ROCOR) (not to be confused with the OCA) was established in Des Moines as a Western Rite Orthodox parish. A Western Rite parish, as opposed to a Byzantine (or Eastern) Rite parish, holds the fullness of the Orthodox faith with their Eastern Rite bretheran, but celebrate Western forms of liturgy. The Divine Liturgy regularly celebrated at St. John the Wonderworker is The Divine Liturgy according to Saint Germanus of Paris, and they also celebrate the Divine Liturgy of St. John Chrysostom. The parish currently holds services at St. Mark's Episcopal Church in Des Moines.

In April of 2002, a group of Egyptian immigrants founded St. Mary Coptic Orthodox Church in Urbandale, a suburb of Des Moines. The Coptic Orthodox Church, under the Coptic Patriarchate of Alexandria, is part of a communion known as the Oriental Orthodox Churches, which also includes the Ethiopian Orthodox Tewahedo Church, the Eritrean Orthodox Church, the Malankara (India) Orthodox Church, the Syrian Orthodox Church of Antioch, and the Armenian Apostolic Church. The Coptic Church in particular has been described by scholars as a "living museum" of ancient Christian tradition and practice.


St. Demetrios Greek Orthodox Church,
Waterloo, Iowa. Founded 1914.
Photo by Ben Siepmann.

Holy Trinity Greek Orthodox Church,
Sioux City, Iowa. Founded 1917.
Photo courtesy of Christine McAvoy.


Holy Transfiguration
Greek Orthodox Church,
Mason City, Iowa. Founded 1918.
Photo by Panos Fiorentinos, from the book Ecclesia.


Greek Orthodox Church of St. George,
Des Moines, Iowa. Founded 1928.
Photo by Ben Siepmann.

Greek Orthodox Church of
St. John the Baptist,
Cedar Rapids, Iowa. Founded 1938.
Photo courtesy of Fr. Basil Hickman.

St. Elias the Prophet Greek Orthodox Church,
Dubuque, Iowa. Founded 1956.
Photo courtesy of N.J. Yiannias.


August, 2004: Metropolitan Christopher (second from left,in mitron) of the Serbian Orthodox Church conducts a Divine Liturgy for the Serbian community in Des Moines at St. George's, assisted by (from left) Fr. Peter T. Cade, priest of St. George's, Fr. Sasha Petrovich, and Fr. Aleksandar Bugarin, both of the Serbian Orthodox Church.
Photo by Ben Siepmann

On August 14, 2004, our parish hosted a Hierarchical Divine Liturgy for the Serbian community of Des Moines. The service was celebrated by Metropolitan Christopher of the Serbian Orthodox Church in the USA and Canada, Midwestern American Metropolitanate, with the assistance of two Serbian priests from Kansas City and South Dakota and Fr. Peter Cade, priest of St. George's at the time. After the service, the Serbian community members in attendance voted to form St. Demetrius Serbian Orthodox Mission Church in Des Moines. The congregation recently acquired its own church building at 4655 NE 3rd Street in Des Moines. The St. Demetrius parish is under the jurisdiction of the Serbian Orthodox Diocese of New Gracanica -- Midwestern America.
---
2. The Greek community in
Des Moines


Portrait of Praxia Ralles, an early immigrant parishioner.

On May 19, 1895, The Iowa State Register marked the arrival of the first Hellenic immigrants to the city by announcing that "Two Greeks...will open a big confectionery and fruit house." The first Greek entry in the Des Moines City Directory was "John Metrakos, Confectioner," in 1898. By 1920, the U.S. Census listed 230 foreign-born Greeks in the city.

As was typical throughout the United States, most early Des Moines Greeks came from southern Greece, especially from the villages of Feliatra, Pyrgos, and Antretsena of Peloponesus, but the young Greek community also hailed from Sparta, Athens, Corinth, Salonika, and the Aegean islands. Unlike Des Moines Italians, Greek settlement in Des Moines did not bear the stamp of a single old-world town or take the form of an ethnic neighborhood.

While many Greeks came to this state to work on the railroads, in Des Moines most of the early immigrants started their own shoe repair shops, restaurants, and candy stores.

The present Greek-American community in Iowa's capital city is a mixture of foreign and native-born from old Des Moines families, other American-born Greek-Americans who have moved to Des Moines, and more recent immigrants from many regions of Greece.
---
In 1924, two hundred Greek immigrants in central Iowa formed a Kinotis, or Greek society. Four years later, the Greek Orthodox parish was established, with church members from Boone, Perry, Ft. Dodge, Newton, Oskaloosa, and Ottumwa, as well as Des Moines and Valley Junction (now West Des Moines). The parishioners voted unanimously to name their church after their most common given name--"George," for St. George the Great Martyr.

Visiting priests conducted services on an irregular schedule at the old YMCA building at Fourth Street and Keosauqua Way. Later, the parish held services at a hall owned by St. Mark's Episcopal Church, then at East 13th and Des Moines Streets. In 1929, the parish battled U.S. immigration authorities in order to bring Fr. Meletios Kestekides from Greece to be its first regular priest.

In late 1930, St. George Parish moved into its present Greek Revival-style church building after agreeing to purchase the property from Westminster United Presbyterian Church for
$22,000. The Greek community held the first Orthodox service in their own church building on Christmas Day of that year.

At a celebration on November 14, 1937, attended by 800 persons, the re-negotiated $16,000 mortgage was burned and Bishop Kallistos of Chicago consecrated the church building. Dignitaries in attendence at the celebration included Iowa Governor Nelson G. Kraschel.

Group shot of the congregation, 1933
From the Parish's 50th Anniversary book. Photographer unknown.


Good Friday, April, 1998. Decorating the kouvouklion and church interior.
Photo by Maro Velman.

Today, we are a parish of 184 member families. The parish receives spiritual and administrative leadership from Metropolitan Iakovos of the Metropolitanate of Chicago.
---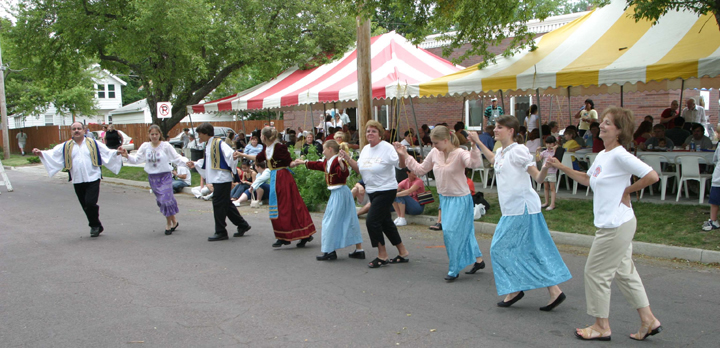 Each year on the first weekend in June, St. George Church hosts a Greek Food Fair serving delicious
Greek food and introducing the Church and Greek culture to more than three thousand guests.