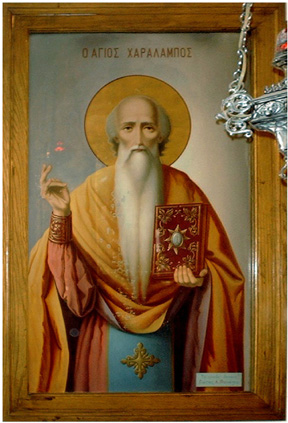 Icon of St. Haralambos on the right side of the Iconostasis. Note that Haralambos and St. Nicholas (on the left side of the iconostasis) carry the same edition of the Gospel book.
St. Haralambos
Feast Day: February 10
Apolytikion:
Fourth Tone
O wise Haralambos, you were proven an unshakable pillar of the Church of Christ; an ever shining lamp of the universe. You shone in the world by your martyrdom. You delivered us from the moonless night of idolatry O blessed One. Wherefore, boldly intercede to Christ that we may be saved.
Kontakion:
Fourth Tone
O Priest-martyr, athlete, champion Haralambos, your relics are a priceless treasure of the Church. Wherefore she rejoices, glorifying the Creator.
Reading:
This Saint was a priest of the Christians in Magnesia, the foremost city of Thessaly, in the diocese having the same name. He contested during the reign of Alexander Severus (222-235), when Lucian was Proconsul of Magnesia. At the time of his martyrdom the Saint was 103 years of age.